Progress for Manchester bus priority package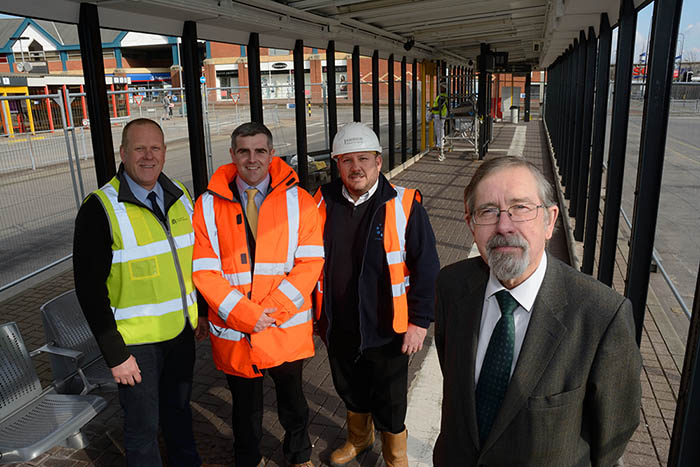 The first of hundreds of new glass panels have been installed at Leigh Bus Station as its £1million facelift gets underway. Transport for Greater Manchester (TfGM) is improving the bus station as part of its bus priority package investment, which will see a guided busway linking Leigh, Atherton and Tyldesley with Salford, Manchester city centre and beyond.
The new-look bus station will have a new travel shop, refurbished public toilets and improved signage while the bus stands will be redecorated and re-glazed to create a brighter, more modern passenger waiting environment, according to TfGM.
Construction work on the guided busway is under way and is due to be completed by the end of this year. "As the gateway to the town centre and the starting and termination point for future busway services, this major overhaul of the bus station is an important part of the busway scheme," says Andrew Fender, chair of the TfGM committee.
"The new-look station will provide passengers with a more pleasant waiting environment as well as cycling facilities. It's exciting to see the busway scheme progressing – it's a massive civil engineering construction project and will provide increased access to jobs both locally and further afield and attract investment in the community, thereby making Leigh a more attractive place to live and work."
The busway will offer a minimum of four buses an hour between Leigh and Manchester during the day from Mondays to Saturdays. There will also be services on Sundays and in the evenings. Passengers will be able to travel directly between Leigh Bus Station and the heart of Manchester city centre using the busway. The busway services will also travel through to the Oxford Road area where the city's universities and hospitals are based – before returning to Leigh, all in a single journey.
Bus journey times between Leigh and Manchester city centre will be cut to less than 50 minutes. There will be improvements to local journeys with four buses an hour travelling between Leigh and Tyldesley town centre in both directions. The journey time between Leigh and Tyldesley will be just 10 minutes compared to the existing bus journey time of around 20 minutes.