Stoke NMC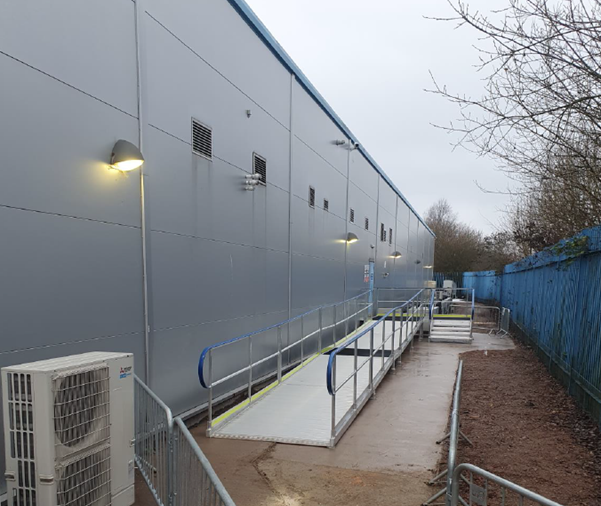 Stoke NMC
Client: Network Rail
Project Completion: April 2021
Project Value: £730k
Jamieson's were appointed to provide the design, construction, and external works at Stoke National Maintenance Centre for Network Rail.
Our works were undertaken in three phases to minimise disruption to the operational site and occupied building. We ensured all work areas were fully segregated from the general public, and operational facility and the highest levels of health and safety provided, including controlling all vehicle movements across the site and implementing zip walling to prevent dust.
The project required extensive stakeholder liaison with various key stakeholders, including unions and numerous departments on the site. We provided regular stakeholder engagement sessions and maintained good relationships throughout this project, planning and coordinating our works according to stakeholder requirements.
The security gates were of a high specification, needing to be robust enough to survive a terrorist attack and high-speed vehicle force. We worked with specialist contractors to provide a design that supported this requirement and provided a solution of Ischebeck Titin micropiles as an alternative to concrete steel piles as the base for the high-security gate. This solution was a stronger, lighter weight pile, which needed less onsite construction but delivered the same strength standard and saved the client £20k.
We worked with the client during the design stages to introduce several energy-saving ideas into the design. This included providing electrical car charger points, sunlight tunnels to bring natural light into the office areas, reducing the requirement for artificial lighting, off-site construction of the security guard office, and LED lighting in the offices with occupancy sensors.
Our Scope of Works included:
Mini pile, concrete pile caps and large concrete foundation to support a large security gate
Concrete bases and new modular security cabin
New kerbs, drainage and ducting
Concrete bases and new access ramps
Installation of electrical vehicle charge points
Creation of new road
External lighting and CCTV
Extensive internal refurbishment consisting of new partitions, mechanical and electrical upgrades and new toilet facilities and shower installation
Fire escape and fire damper installation