Bletchley MDU Sewer Tanks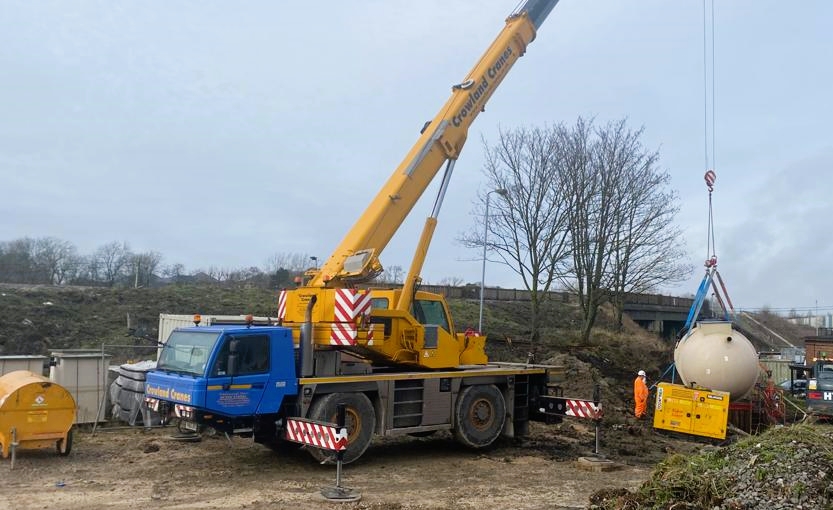 Client: Network Rail
Project Value: £220k
Completion Date:  May 2021
Jamieson were selected to install a new sewer treatment tank at Bletchley works Depot on behalf of Network Rail. The works were high risk due the complex temporary works to create the cofferdam and the confine space operations for working within the excavation.
The project required deep excavation of nine meter with sheet piling being used to create a safe working area at the base of the excavation. The high-risk temporary works needed careful planning during design phase to ensure the safety of our team and a full design for the cofferdam was also completed by ourselves. Our engineer marked out for the sheet required for the works and we installed nine-meter-deep sheet piles utilising a side movax to form a safe working area to excavate a further eight meters down.
All site operatives working on the project had completed confined space working training and we provided a safety rescue team on site at all times. We also undertook a number of rescue drills to ensure everyone was fully aware of what to do in an emergency situation.
Once the excavation had been complete, a reinforced concrete slab was poured and large sewer tank installed. Jamieson's also provided the installation of the new drainage required to connect the ducts, removal of the redundant sewer tanks and equipment, demolition of the existing sewer tanks house, and making good of the surrounding area.
The project required extensive stakeholder liaison with Network Rail and the contractor undertaking the nearby bridge works. We provided constant communication and coordination of our works with all stakeholders, planning all works and deliveries in a collaborative manner to ensure minimal impact on the depot and bridge construction works.
Our Scope of Works included:
Temporary works
Planning and installation of new sewer treatment works
Piling and deep excavation
Installation of large sewer tanks
New drainage and connections
Removal of old sewer tanks and equipment
Demolition of old sewer tanks house
Making good of work area